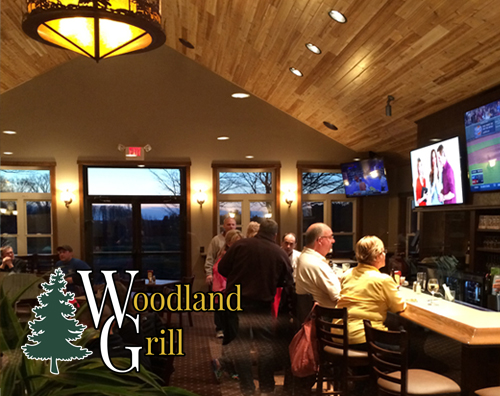 Woodland Grill Sports Bar

The Woodland Grill Sports Bar is open year-round making this the perfect place for our Upper Peninsula snowmobilers to enjoy a great bite to eat, a drink and warm up in our club house.
The Woodland Grill Sports Bar features a full bar with full a menu that offers many options to pick from: steak, burgers, seafood, and pasta. Click here to view our menu.
Our Upper Peninsula Sports Bar is themed to individuals, families, or groups that want to come in for lunch or dinner while traveling the UP or planning to spend a day of golf with us. Join friends for a drink and watch the game on one of our six large flat-screened TVs or simply come and relax with us after a local sporting event.
Our Wine List includes many excellent choices such as Canyon Road, Cakebread, Rodney Strong, and Silver Oak as well as a few other great selections.
Our Beer List offers many of the traditional brews such as Busch Light, Bud Light, Miller Light, Labatt Blue, and Coors Light (just to name a few), along with Bell's Two Hearted Ale, Widow Maker and Pick Axe Blonde.
Cocktail Menu
The Newberry Country Club Sports Bar now has a great Cocktails Menu available for download. "Add a splash of color!" and enjoy one of the many great drinks that we offer like our Grapefruit Whiff, Dormie Appletini, Par-Fect Manhattan, and Mulligan Old Fashion! Stop by and try one of these colorful and refreshing drinks.

Visitors can enjoy a host of area year-round activities and enjoy a relaxing drink here at our Upper Peninsula Sports Bar.